Sweet blueberries are swirled into a thick layer of creamy cheesecake filling, in this easy and irresistibly delicious blueberry cheesecake bars recipe!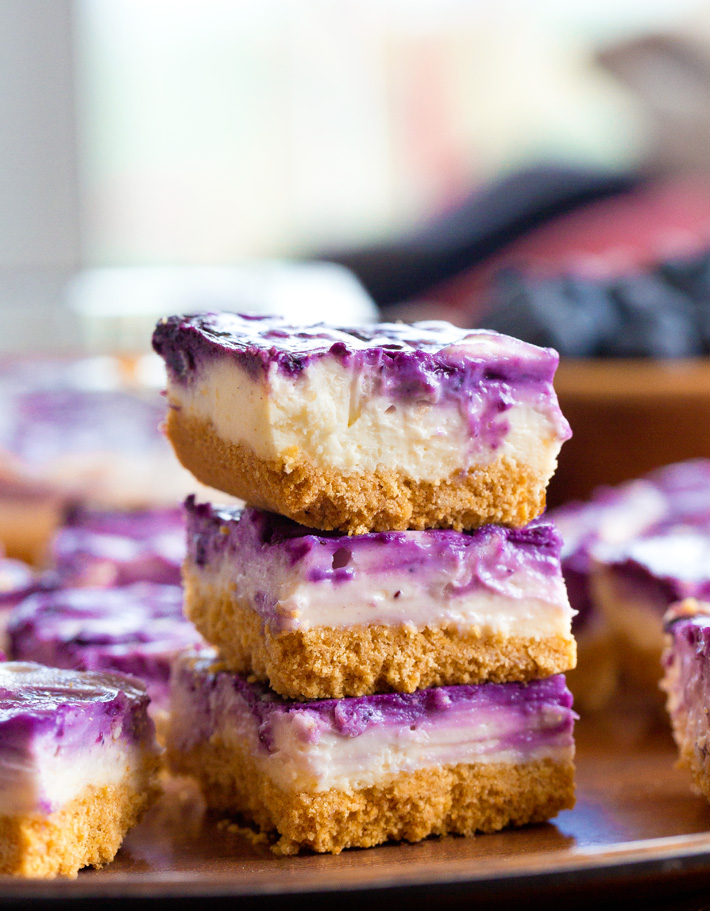 The best blueberry cheesecake bars
If you are looking for a simple, crowd pleasing party dessert to wow all of your guests or family, these summer berry cheesecake bars are the perfect choice.
It's like rich New York style cheesecake and homemade blueberry pie, all in the same show stopping dessert!
The cheesecake layer is so soft and creamy. And blueberry lovers will quickly go back for seconds and thirds, until suddenly the entire tray is gone.
Also try this super popular Blueberry Crisp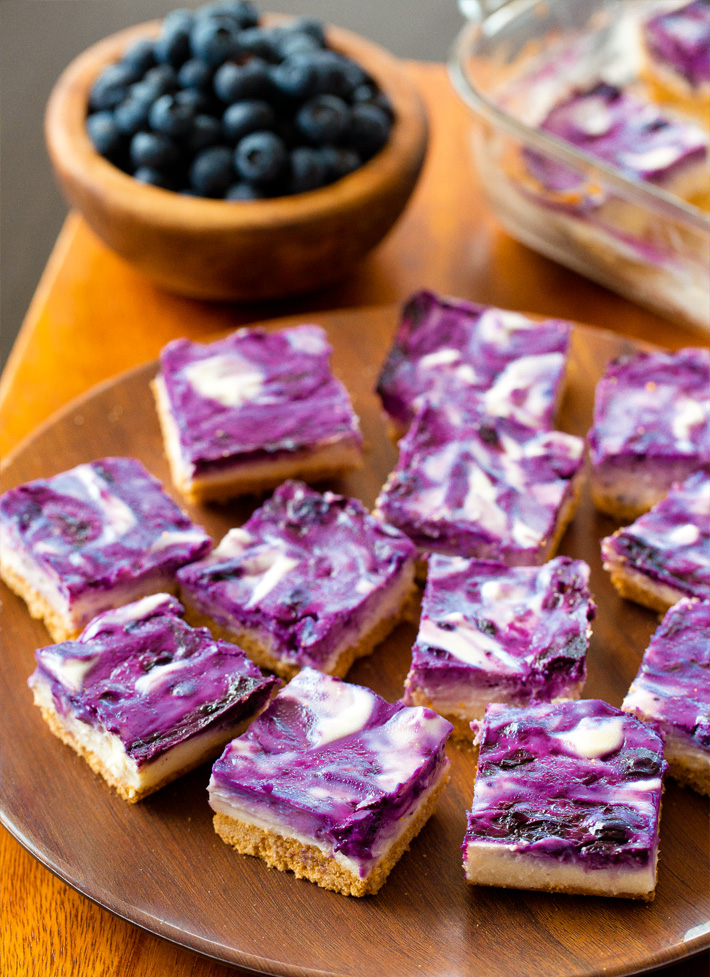 Step by step recipe video
Above, watch the blueberry cheesecake bar recipe video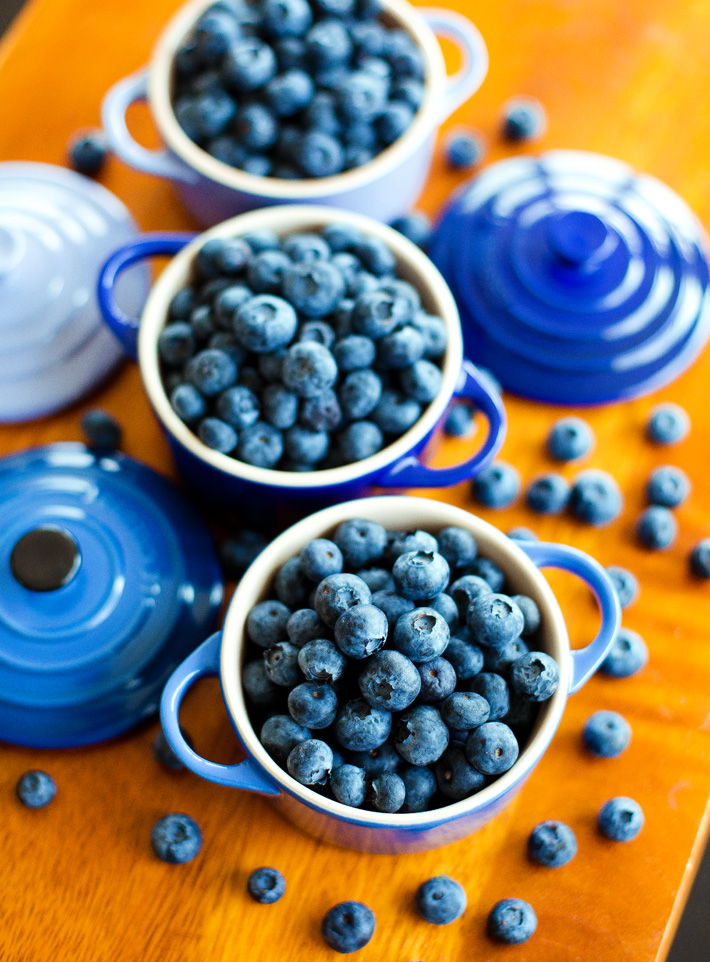 Blueberry cheesecake bar ingredients
To make the recipe, you will need the following:
Fresh blueberries, water or lemon juice, optional lemon zest, cream cheese and yogurt (or plant based versions), pure vanilla extract, sweetener of choice, cornstarch or almond flour, and optional crust of choice.
You can use either regular or Greek yogurt, and dairy free yogurt works too. If using vanilla yogurt, omit the pure vanilla extract in the recipe.
Frozen blueberries may be substituted for the fresh ones. Since they will be heated on the stove top, there is no need to thaw the berries first.
Want to add a crumble top? Use the topping from these Blueberry Bars.
Or switch up the flavor by substituting some or all of the blueberries with diced strawberries, raspberries, blackberries, or cherries.
You can also stir a pinch of ground cinnamon or cardamom into the blueberry topping.
Depending on the specific ingredients used, the recipe can be dairy free, egg free, gluten free, oil free, low fat, low calorie, and vegan.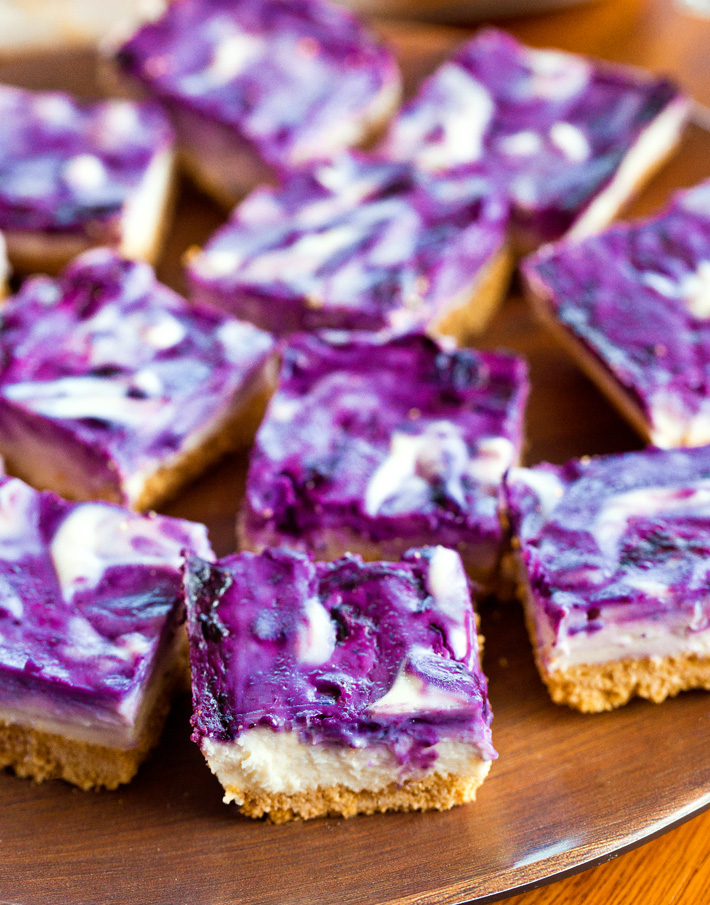 Blueberry lemon cheesecake bars
As a fun flavor twist, you can turn the bars into lime, orange, grapefruit, tangerine, or lemon blueberry cheesecake bars.
Simply include the optional lemon juice and lemon zest (or the juice and zest of the other fruits mentioned above) in the blueberry swirl topping.
For an even bolder lemon flavor, use lemon yogurt in the cheesecake filling.
Blueberry pie cheesecake bars
Want a thick layer of blueberry topping instead of a marbled swirl?
Simply quadruple the blueberry topping recipe below and stir in a tablespoon of cornstarch. In other words, use two cups of blueberries, a fourth cup of sweetener, about three tablespoons of optional lemon juice, and add a tablespoon of cornstarch.
Bring to a boil, then turn the heat to low and whisk until thick.
Let cool before layering the blueberry sauce on top of the cheesecake layer in the pan.
If you prefer, you can substitute canned blueberry pie filling for this homemade blueberry topping.
Looking for more bar ideas? Make your own Baked Oatmeal Bars or Protein Bars.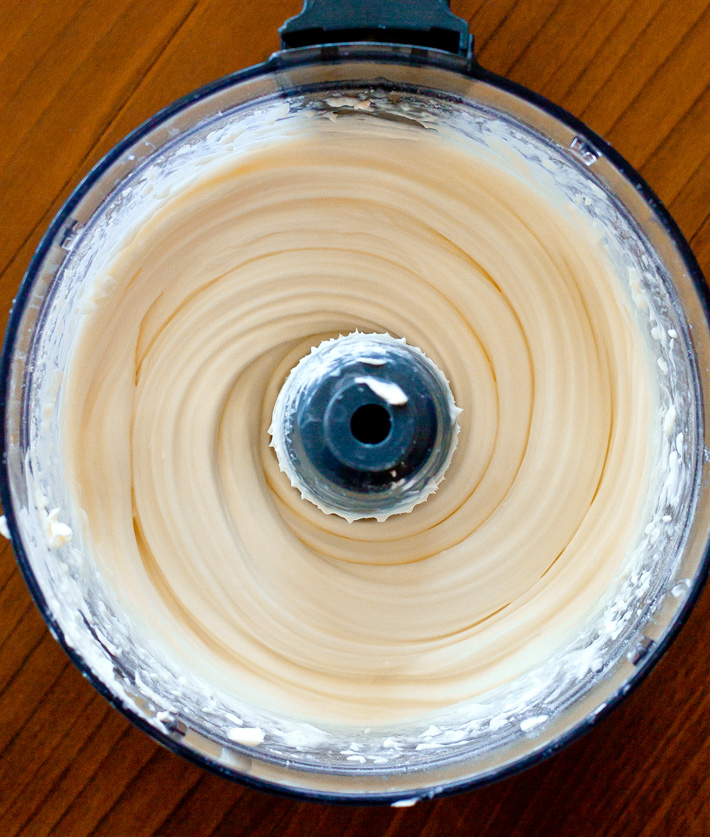 How to make blueberry swirl cream cheese bars
Begin by lining the bottom of an eight inch square baking pan with parchment paper.
If you will be using a crust, press it firmly into the pan. Then set this pan aside and bring the cream cheese to room temperature so it will be easier to blend.
Preheat the oven to 350 degrees Fahrenheit.
Fill an additional baking pan of any size about halfway up with water, and place it on the oven's bottom rack. This will add extra moisture to the oven and is a great trick for preventing the blueberry cheesecake squares from cracking while they bake.
In a small saucepan, whisk the blueberries, water, and two tablespoons sugar or sweetener of choice over medium heat.
Stir frequently until the blueberry sauce thickens. If a completely smooth sauce is desired, you can use an immersion blender to quickly blend until smooth. I usually do not bother with this step, as I like a little texture in the bars.
Set the topping aside to cool.
Blend the cream cheese, yogurt, remaining sweetener, cornstarch or almond meal, and pure vanilla extract in a food processor or blender until smooth.
Do not over blend, which could introduce air bubbles into the filling that might burst and cause cracking while the bars are baking.
Spread the blueberry cheesecake filling evenly into the prepared baking pan.
Dollop spoonfuls of the blueberry topping onto the filling. Use a knife, fork, or toothpick to swirl the blueberries into the bars.
Place the pan on the center rack of the oven. Bake for twenty five minutes.
Then leave the oven door completely closed, turn the oven off, and let the pan sit in the turned-off oven for an additional ten minutes.
This step allows the blueberry bars to cool gradually and helps to avoid cracking.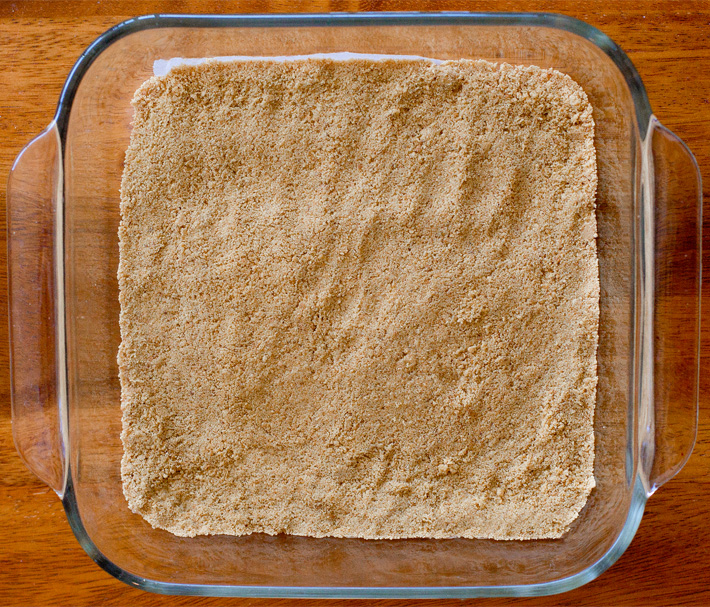 Cheesecake square crust options
Feel free to use your favorite crust that fits an eight inch pan.
Or omit the crust to make crustless blueberry cheesecake bars.
If you want a shortbread crust, I recommend the one I use in these Peach Bars.
You can also use half a sheet of crescent rolls, spreading it into the bottom of the pan instead of a traditional crust.
For the bars in the photos, I went with a no bake graham cracker crust:
Pulse twelve full graham cracker sheets or two cups of graham cracker crumbs in a food processor with three tablespoons of oil or butter.
Press the crumbs down very firmly and evenly into the bottom of a parchment lined pan. Then spread the cheesecake filling and blueberry swirl on top.
There is no need to pre bake this crust.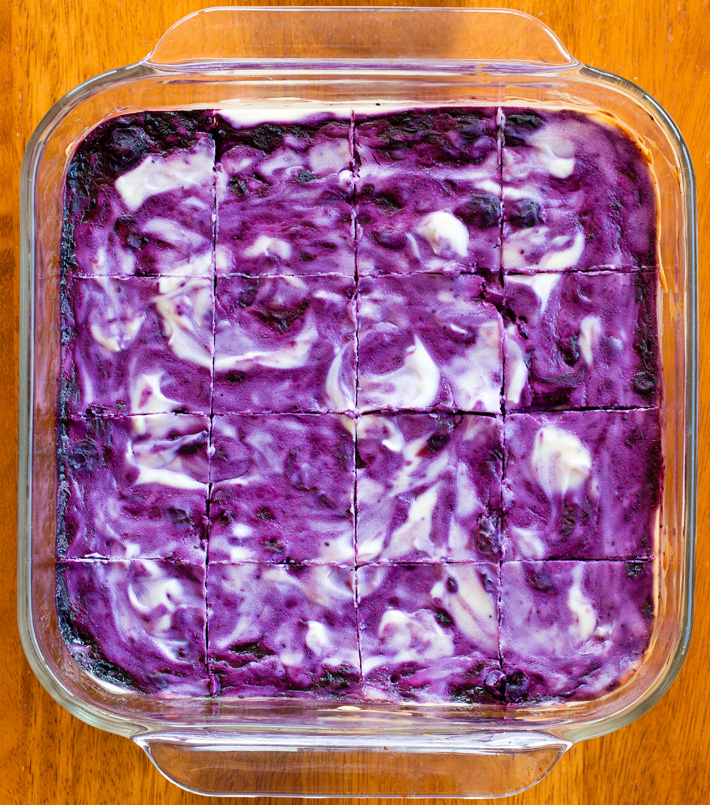 Storage tips for leftovers
Remove the pan from the oven and allow the bars to continue to cool.
Once no longer hot, transfer the entire pan to the refrigerator, cover loosely with paper towels or a cloth, and let sit at least six hours or overnight.
The homemade blueberry cheesecake squares will firm up considerably as they cool and slice easily once firm.
I normally slice the pan into nine large bars or sixteen mini cheesecake bars.
The recipe is easy to transport and is thus great for serving at birthday parties, barbecues, or potlucks. Due to the perishable ingredients, leftover bars should be refrigerated if not consuming within a few hours.
Slice and refrigerate leftovers in an airtight covered container for up to five days.
Add a sheet of parchment paper in between each layer of cheesecake squares so they do not stick to each other.
You may also freeze the bars, with parchment paper in between each layer, for up to three months. Depending on the type of crust, it may get soggy once thawed, so keep this in mind if you prefer crispy or chewy crust.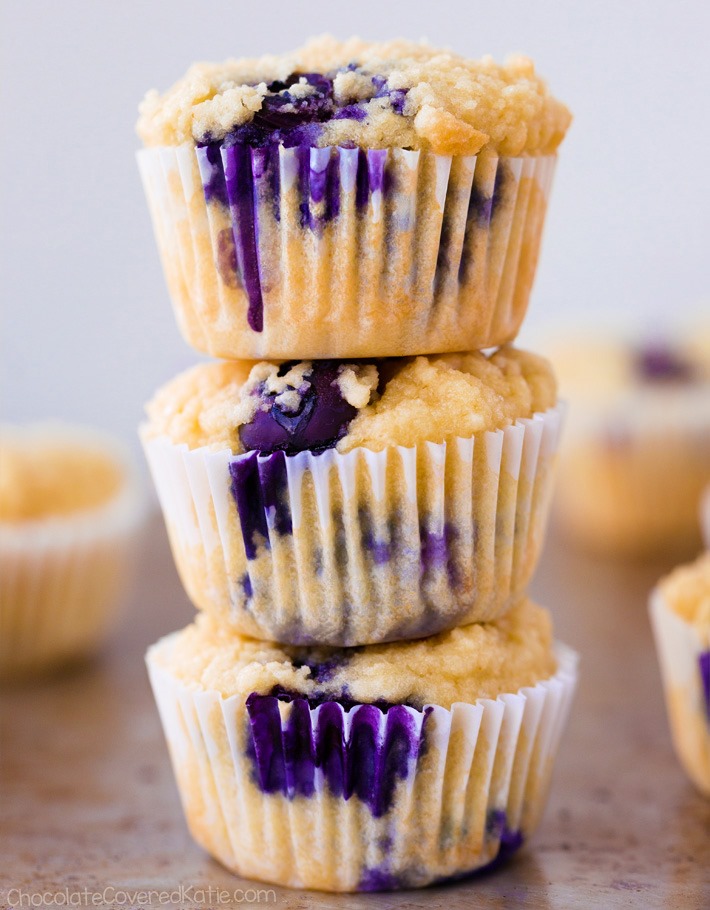 Ways to use leftover blueberries
Healthy Blueberry Muffins (reader favorite)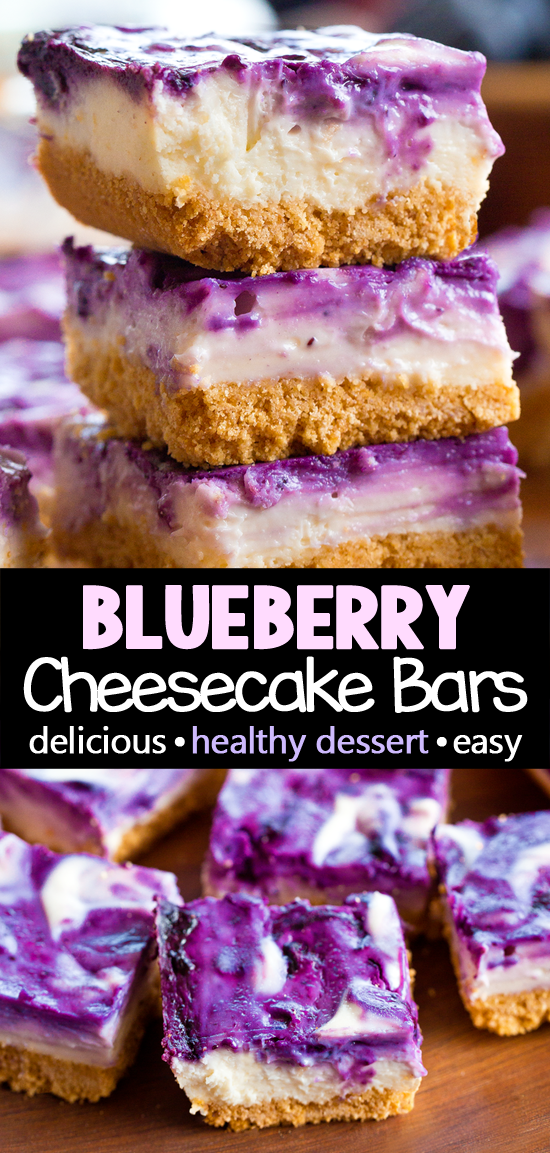 Blueberry Topping
1/2

cup

blueberries

1

tbsp

sweetener of choice

2

tsp

lemon juice

(optional)

optional zest of one lemon
Cheesecake Filling
12

oz

cream cheese

or vegan cream cheese

3/4

cup

plain yogurt

1/2

cup

sweetener of choice

(see above for options)

1 1/2

tsp

pure vanilla extract

1

tbsp

cornstarch

(or 4 tbsp almond flour)

optional crust

(two options are listed above)
Line an 8 inch pan with parchment. If using a crust, press it into the pan. Bring cream cheese to room temperature. Preheat the oven to 350 F. If you have an extra baking pan (of any size), fill it halfway with water and place it on the lower rack of the oven. This optional step adds moisture to the oven and helps prevent the blueberry cheesecake bars from cracking.

Whisk the blueberries, lemon, and 1 tbsp sweetener in a small saucepan over medium heat, stirring constantly. Mash with a fork or immersion blender. Set aside. Blend all filling ingredients just until smooth. Do not over-blend. Smooth filling into the prepared pan. Add spoonfuls of blueberry topping, then use a knife or toothpick to swirl it into the filling. (You can see a visual in the recipe video above.)

Place on the oven's center rack. Bake 25 minutes, then do not open the oven door even a crack, but let the bars sit in the turned-off oven for an additional ten minutes. Remove from the oven, and allow to cool fully before transferring to the refrigerator for a few hours (or overnight). The still-jiggly bars will firm up considerably as they cool in the fridge.

View Nutrition Facts
More Easy Bar Recipes