With no flour or dairy required, this healthy flourless pumpkin muffins recipe makes an absolutely wonderful Fall breakfast or snack!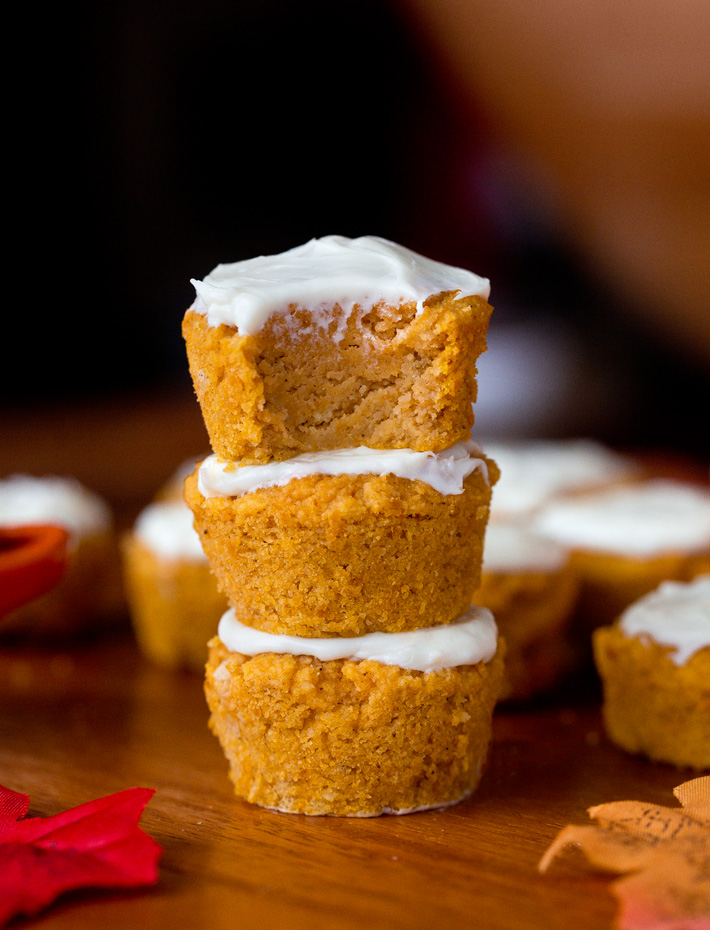 Flourless healthy pumpkin muffins
Without a doubt, the best thing about these fudgy flourless pumpkin muffins is how good they taste.
But with just seven ingredients and one bowl, a close second is how incredibly easy the recipe is to make!
Mix the batter up in seconds, then let the oven do all the hard work. Soon, your entire kitchen will smell like cinnamon spice and pumpkin pie.
Still craving pumpkin? Make Crustless Pumpkin Pie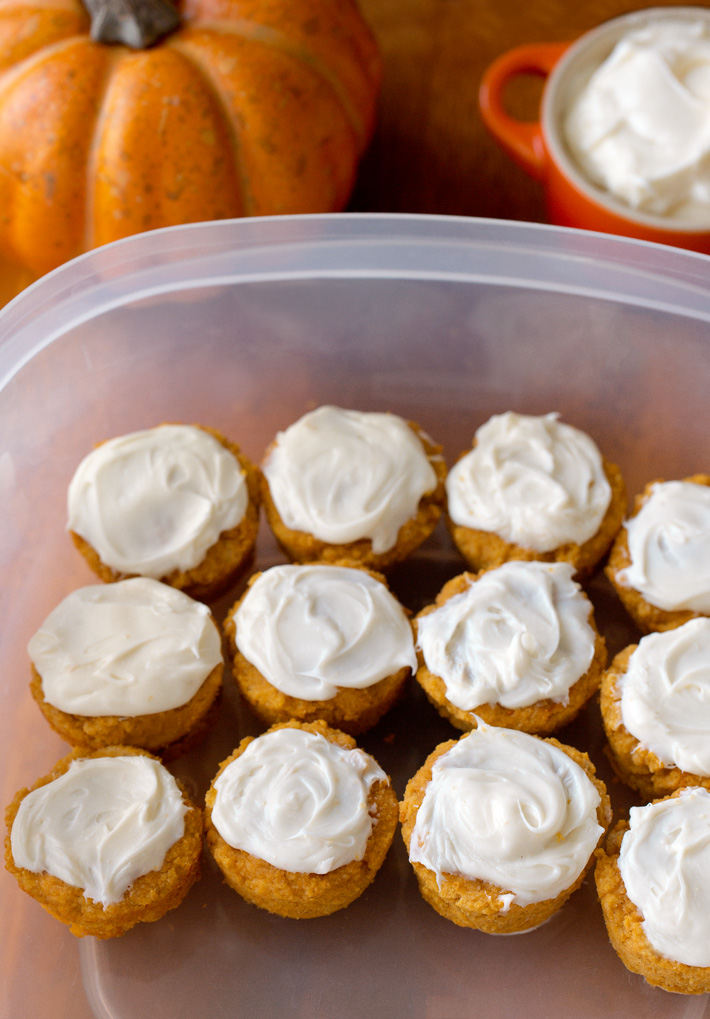 Ingredients for pumpkin muffins with no flour
The recipe can be vegan, gluten free, grain free, paleo, low calorie, low carb, ketogenic, soy free, dairy free, egg free, and sugar free.
You will need the following ingredients:
Fresh or canned pumpkin puree, almond meal, granulated sweetener of choice, baking powder, salt, ground cinnamon or pumpkin pie spice, an egg or flax egg, and optional mini chocolate chips.
Pumpkin puree: The easy option is to buy canned pumpkin at the store. Or you can roast and puree your own pumpkin. Roasted sweet potato puree may be substituted.
Fine almond meal: The only ingredient in almond meal is almonds that have been ground up to resemble the texture of flour. You may also use almond flour here.
Use leftover almond meal for a Keto Cheesecake
Sweetener: This can be regular sugar or brown sugar, unrefined coconut sugar, date sugar, or a no sugar substitute like granulated xylitol or erythritol for a keto option.
Spices: You may use all ground cinnamon, all pumpkin pie spice, or a combination of the two. If using cinnamon, I like to add a pinch each of cardamom, cloves, and ginger.
Vegan flourless pumpkin muffins: Use the flax egg option, or commercial egg replacers also work well here. The recipe naturally has no milk or butter.
Feel free to experiment with different ingredients if you are feeling adventurous. I have not tried swapping oat flour or wheat flour for the almond meal so cannot recommend either of those in the pumpkin recipe.
Keto pumpkin muffin recipe video
Above – watch the flourless pumpkin muffin recipe video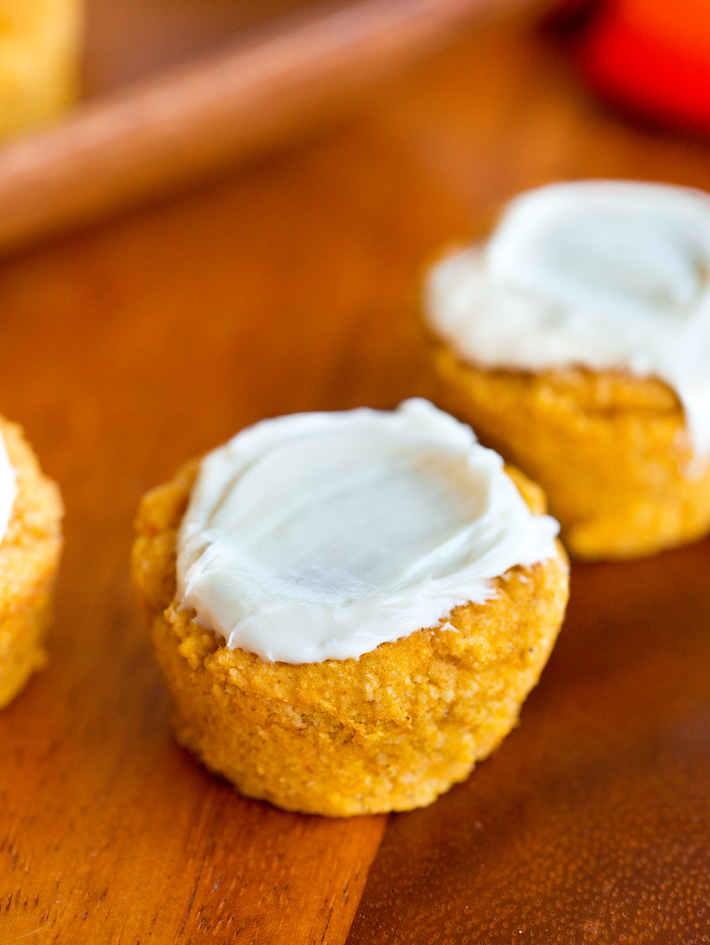 How to make flourless pumpkin muffins
Preheat the oven to 350 degrees Fahrenheit, and grease a muffin tin or mini muffin tin.
In a medium mixing bowl, stir together the almond meal, sweetener, baking powder, salt, and cinnamon. If using chocolate chips, add them here as well.
Whisk in all remaining ingredients to form a batter.
Divide the flourless muffin batter among the prepared muffin cups, and place the pan on the center rack of the oven.
Bake mini muffins for ten minutes or larger muffins for fifteen minutes.
Remove the pan, and let the muffins cool fully before going around the sides with a knife and popping them out onto a plate.
Store leftovers in a covered container. After a day, I recommend refrigerating for freshness. The muffins can also be frozen. Thaw before serving.
Try serving it with a Starbucks copycat Pumpkin Spice Latte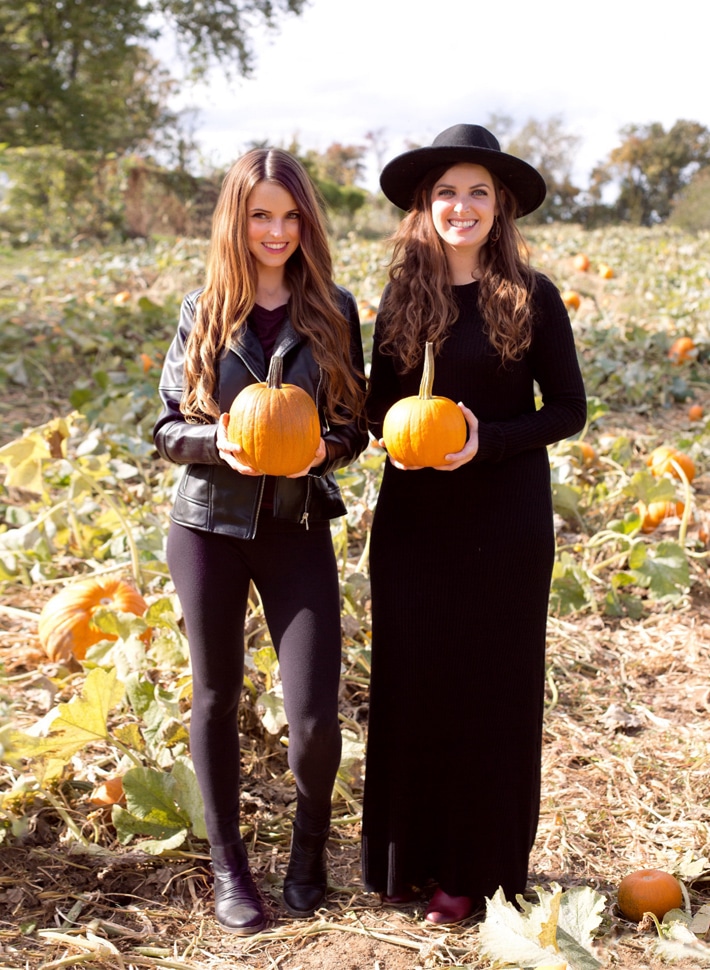 Tips, tricks, and toppings
If you make the recipe into flourless pumpkin mini muffins instead of large muffins, they will have a lighter texture. However, both ways work!
The recipe yields a little over a dozen mini muffins or about four regular muffins. Feel free to double all ingredients to feed a family.
Top the muffins with cream cheese frosting or Vegan Cream Cheese, spiced pumpkin butter or apple butter, or even almond butter or peanut butter.
Or make a basic pastry streusel and sprinkle it over the muffins right before baking.
They are also quite yummy spread with Homemade Nutella!
The recipe was adapted from my Keto Muffins and Almond Flour Banana Bread.
1

cup

almond meal

or almond flour (120g)

3

tbsp

sugar

or granulated sugar free sweetener

1/2

tbsp

baking powder

1/4

tsp

salt

1/2

tsp

cinnamon or pumpkin pie spice

1/3

cup

pumpkin puree

1

egg

or flax egg

optional handful mini chocolate chips
*I recommend making mini muffins because they have a much lighter texture. You can do large size muffins if you prefer. The recipe will make 4 regular muffins, or feel free to double it.

To make the flourless muffins, preheat your oven to 350 F. Grease a mini muffin tin well. Stir dry ingredients, then whisk in wet. Divide among the muffin cups. Bake 10 minutes on the center rack (or 15 minutes for large muffins). Remove from the oven. Let cool, during which time they continue to firm up. Carefully go around the sides of each pumpkin muffin with a knife and pop them out.View Nutrition Facts
More Easy Flourless Recipes